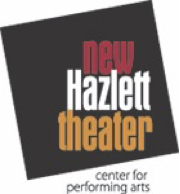 *Please note that this role is for New Hazlett Theater.
Passionate about the arts? Looking for a new challenge and the opportunity to make a difference in your community? We're looking for creative, motivated people like you! The New Hazlett Theater is seeking an experienced professional to lead a comprehensive fundraising and communications program. Our Director of Advancement works closely with the Executive Director and the senior team, developing strategies to establish and deepen connections with audiences and donors. The person in this leadership role, along with their team, will grow audiences, cultivate relationships with existing and new donors, leverage data for outreach and community engagement efforts, and track results.
New Hazlett team members embrace the theater's mission to create dynamic art through innovation and collaboration. We provide vital resources to creators from all backgrounds to enrich our cultural community, and respect and present diverse artists and ideas.
Essential Duties & Responsibilities
Leadership:
· Provide inspiring and visible leadership to effectively engage and retain audiences, donors, Board members and volunteers in working toward the New Hazlett Theater's success
· Lead the creation, implementation, and evaluation of multi-year development and marketing plans to support the $1.5 million organizational budget
· Work collaboratively across the organization to coordinate messaging and communication priorities that support fundraising, resident artists, programming, outreach, and other strategic initiatives
· Partner with the Executive Director to cultivate relationships with elected officials at all levels of government
· Support Board Members in their individual fundraising commitments; serve as staff liaison to applicable board committees; attend Board of Directors meetings
· Lead and manage two team members, contracted grant-writers, interns, and others as assigned
· Represent the New Hazlett as a spokesperson and at events, as needed
Development:
· Establish individual fundraising goals, develop cultivation and solicitation strategies and track progress with new and existing individual prospects
· Achieve foundation giving goals by supervising research of new foundation and government grant opportunities, collaborating on proposals, engaging other staff, writing proposals when needed, ensuring that reporting is timely and accurate, and meeting deadlines
· Understand and stay current with all programming initiatives to create multiple giving opportunities
· Develop and oversee execution of all communications in support of cultivation and solicitation activities, including but not limited to letters, electronic promotions, presentations for donors, briefing materials and reports
· Oversee ticketing database and gift entry process to ensure accuracy; segment data for customized communication; leverage data for outreach and community engagement efforts
· Oversee donor stewardship and gift accounting including the timely production of donor acknowledgement letters
· Serve as project manager for all fundraising and donor cultivation events
· Develop metrics and measures of fundraising success; monitor efforts and track results regularly; highlight successes and proactively identify areas for improvement
Communications:
· Serve as the primary creative author for all communications, including but not limited to newsletters, direct appeals, e-marketing, impact reports, digital content, ads, annual report, event collateral, outreach materials, and stakeholder stories
· Oversee organizational branding and messaging, including print and digital assets to promote ticket sales, facility rentals, sponsorships, and community engagement
· Develop, implement and supervise execution of a digital marketing strategy to reach targeted audiences, including website, SEO, and social media marketing
· Manage and implement earned media/PR tactics to raise awareness, inspire support and share NHT news by maintaining relationships with local media and influencers, pitching editorial opportunities, and soliciting media sponsorships
· Partner with artists to gather information and promote events, finding ways for their voices to be represented throughout marketing, publicity, and community engagement campaigns
· Build a catalog of communication assets including stories, photos, and video of NHT work with participants and the community
· Serve as liaison to graphic designer, web developer, photographer, or other support vendors when required for specific campaigns or initiatives
· Serve as NHT's team lead in the execution of the new Resident Company marketing strategy; mentor small arts groups in appropriate marketing strategies as needed
· Strengthen relationships with the Northside community; create neighborhood outreach strategies to benefit NHT, Northside residents and businesses
· Create, implement, and manage the marketing budget
· Supervise maintenance and use of marketing data to measure performance and optimize success
Other Duties:
The duties and responsibilities described are not a comprehensive list and additional tasks may be assigned based on emerging priorities and organizational demands. The successful candidate will be prepared to accept new challenges and ad hoc responsibilities to advance the New Hazlett's mission when needed.
JOB REQUIREMENTS
Minimum Experience:
· 5 years of professional development or communications experience
· 3 years of managerial experience, preferably in a nonprofit environment
Preferred Experience:
· Knowledge of performing arts procedures and practices
Knowledge, Skills & Abilities
· Flexible professional with a collaborative work style and a passion for the arts
· Energetic self-starter with a high degree of personal motivation, self-direction and detail-orientation
· Creative and strategic thinker with ability to proactively develop new ideas and to manage implementation
· Excellent project and time management skills with the ability to multitask and reprioritize; calm under pressure
· Excellent communications abilities, including clear, fluid, and informative writing, ability to vary writing style to meet needs, and editing skills
· Strong interpersonal skills and ability to relate to all audiences with professionalism to build relationships
· Knowledge of development principals and techniques, annual appeal process, and fundraising ethics
· Ability to present numerical data effectively
· Ability to work in MS Office, WordPress, Mailchimp, Canva, Facebook and Instagram.
· Proven track record of previous success
· Plusses: skill in graphic design/publishing applications; familiarity with ticket selling platforms; comfortable with technology-based fundraising solutions and gift processing
· Commitment to NHT's mission, and to the principles of diversity, equity, accessibility and inclusion both on stage and off, and the willingness to interrupt behaviors that impede our DEAI efforts.
Don't think of this job description as a mandatory list. You must have prior experience, but if you don't meet all our other qualifications, and still believe that you could excel in this role, we encourage you to apply. Whether you're new to arts and culture administration, returning to work after a gap in employment, or looking to transition, we would love to hear from you. Use your cover letter to tell us about your interest in the arts and why you think you're a good fit for this role.
Travel Requirements: Access to reliable transportation for local and regional meetings
Physical, mental demands and working conditions:
The physical demands described here are representative of those that must be met by an employee to successfully perform the essential functions of this job. The New Hazlett will provide reasonable accommodation for qualified individuals with disabilities to perform these essential functions.
· An employee in this position works in an office environment. Office equipment will be operated.
· The position frequently requires the employee to communicate well with others both inside and outside the theater (e.g., in person, via telephone, via email).
· The employee must be able to understand, interpret and analyze data, solve problems, concentrate, and research, use available technological resources and systems (e.g. computer programs), multi-task, prioritize, and coordinate with multiple individuals to complete essential tasks.
· An employee in this position is required to move throughout the workplace, to write and/or type and communicate effectively.
Schedule: This is an in-person, non-remote role. Attendance at performances, meetings, and special events – including evenings and weekends – is expected at times; your schedule can be flexed to accommodate these hours.
Compensation: This is an exempt, full-time position with a salary of $60,000/year and includes a comprehensive benefit plan offering health, dental and vision insurance, disability insurance, life insurance, and paid time off.
The New Hazlett Theater is proud to be an Equal Opportunity Employer, and we encourage people from underrepresented backgrounds to apply. We do not discriminate on the basis of race, color, ethnicity, ancestry, religion, national origin, gender, sex, gender identity or expression, sexual orientation, age, citizenship, marital or parental status, disability, veteran status, or other class protected class.
Employment is contingent upon your successful completion of a professional, educational, and criminal background check. At the time of employment, you must also present documentation indicating that you are legally authorized to work in the United States. Full Covid-19 vaccination is required, barring a legal exemption.